Through this guide, available from Éditions Chamina, discover and explore the 371 km of cycling routes of the Somme à Vélo.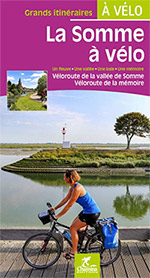 Discover magnificent places steeped in history such as Péronne and its Historial of the Great War, the Somme Canal, the town of Amiens and of course our magnificent Baie de Somme.
This guide was produced by Paulo Moura, specialist in cycle tourism and family roaming in partnership with Somme Tourisme. Divided into 14 stages, it will help you organize your cycling trips as well as possible thanks to:
- heritage and natural points of interest
- a cartography on IGN background
- an address book with all the practical information
Have your bikes and see you soon on the Vallée de la Somme and Baie de Somme cycle route.
Find the guide