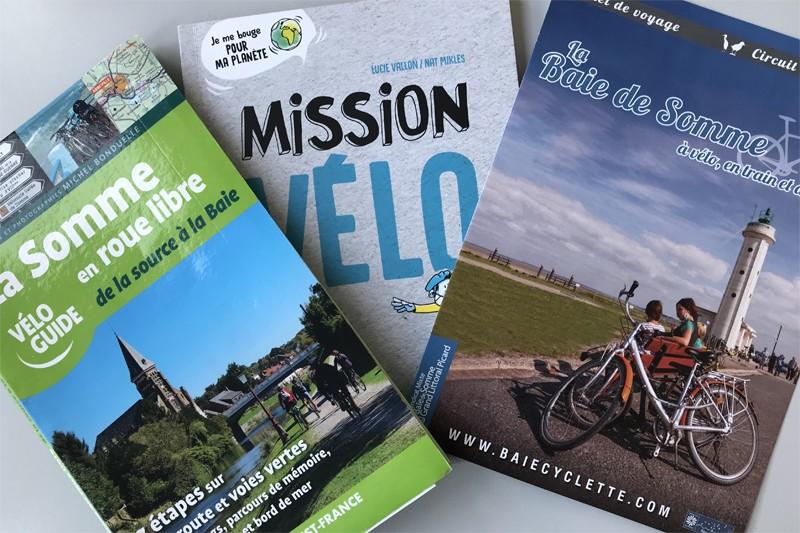 ©SMBS-GLP
To read before leaving!
Do not want to go out right now. Do not move, we've put together a list of some guides and booklets to watch to prepare your next bike trip in the Somme Bay. There is something for everyone, young and old.
A lire avant de partir !

Pas envie de sortir en ce moment. Ne bougez pas, on vous a concocté une liste de quelques guides et livrets à regarder pour préparer votre prochain séjour vélo en Baie de Somme. Il y en a pour tout le monde petits et grands.


Bike travel diaries

For those who have not yet come for a bike ride in the Baie de Somme, find our travel books. These gather all the information needed to prepare your ride: the circuit map, starting points and parking, activities, bike rental, accommodation, restaurants ...

To download on our site - heading the circuits



The Freewheeling Sum

You know the Baie de Somme and want to pace new courses or extend your circuit along the Somme Valley, so do not hesitate and get the guide: the Somme freewheeling. This notebook made by Michel Bonduelle, the bike tourism specialist, is full of information and practical advice to make the most of the destination. The author takes you and accompanies you throughout your walk in both directions to take but also in places to visit or views not to miss. A tailor-made trip with good places to test.

On sale in many points, 14€90 at Ouest France editions



Special children: Mission Vélo

To introduce children to cycling and encourage them to become involved in the ecological transition, browse the few pages of the manual that is both fun and educational: Mission vélo. Your toddlers will learn through games, safety tips, tricks, the rules of the road and even how to fix your bike. To read in family!

On sale in many bookstores, € 8 at Rue de l'Echiquier Jeunesse.



©2011-2019 baiecyclette.com Tous droits réservés